Basil Coleman RIP – A Tribute
Apr 16 2013
· 0 comments·
News
On 4th April I had the great privilege of giving an address at the funeral of my dear friend and mentor, Basil Coleman… Here's the text of my speech: First of all thank you very much for inviting me to speak about Basil. I have to confess I feel something of a late-comer here, having only known Basil for the last 12 years. I'm sure there are many here today, who have known him for so much longer than I – but I do feel that the privilege of his close friendship has been one of the most important of my life.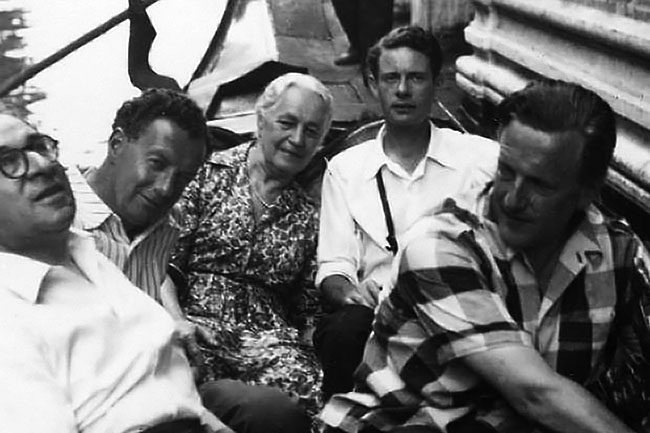 I first met Basil when I was preparing to direct Britten's GLORIANA at the Snape Maltings, fifty years after Basil had directed the very first production at the Royal Opera House in Coronation Year, 1953. Basil was immediately charming, welcoming, kind; wearing his huge wealth of experience very lightly, keen to know all about this young director & his work, very interested in what was going on in the cultural and wider world, as he always was. As long as he could, Basil came to see my productions of operas and plays in London and Aldeburgh, and was the most amazing mentor I could ever have hoped for. We all know that Basil was an incredibly self-effacing man, never one to blow his own trumpet, always deflecting any glory onto his colleagues or friends. He couldn't seem to help it, he was a gentleman, through and through. And Basil was too self-effacing to stop to write his memoirs, but once we'd become firm friends, I was lucky enough to conduct a series of interviews with him, and they are a treasure trove of his wonderful stories. The transcripts are now in the archives at the Britten-Pears Library in Aldeburgh. Here's a little extract from one of our conversations in 2004, when Basil was 87: WK: Basil, do you feel that you've had a blessed life? BC: Oh, golly, yes! WK: Do you feel you've been immensely lucky? BC: Oh, yes, indeed – I've had such a rich life, and worked with and been associated with one genius and at least two other people touched with genius. WK: Then how wonderful to be at the stage you're at now, Basil, with such a storehouse of amazing memories! BC: Yes, aren't I lucky? But I don't dwell on it. It's there and I can't help dipping into it from time to time. I'm too interested in the present and what is going to happen in the future too, you know, that I don't want to get bogged down in the past. Well, Basil, this is the one occasion on which your modesty can't prevent us from taking a few moments to celebrate this rich, blessed and prolific past of yours.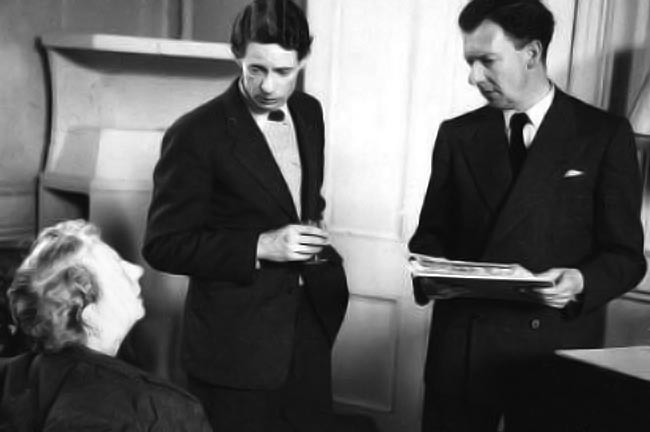 Now that Basil in no longer trapped in one time, but free of it, his whole life can be remembered and celebrated. So, today, let us remember the boy Basil in Bullawayo, climbing into bed with his father and step-mother, the redoubtable Gwen Givern Chambers, an ardent pacifist, vegetarian and Suffragette, as she captivated Basil's young imagination with the story of The Merchant of Venice, igniting his lifelong love of Shakespeare. Even as an elderly man, Basil could start to weep at the beauty of Shakespeare's verse. Let's remember Basil the Schoolboy at Frensham Heights in Surrey who started the drama club there, the ardent student at Elsie Fogerty's Central School – an intense training of which Basil said: BC: I think I took it far too seriously, do you know – because there was a time when I was at the Old Vic and AS YOU LIKE IT was on, and the part that I understudied was the First Lord who has a very long description – WK: The death of the deer – BC: Of the deer and all that – and at the end of it Tyrone Guthrie stamped down the stalls and said 'No! No! Basil – I'm sure he didn't say it like that unless he was a pupil of Elsie Fogerty's – you really must forget it!'Let's remember the Basil who did his Old Vic audition for Lillian Baylis herself, who, as a student, appeared with Laurence Olivier in Henry V on the Old Vic stage, directed by Tyrone Guthrie, of whom Basil said to me: "Tony was so daring, that was one of the wonderful things about him, in his production of Henry V with Olivier during that season when I was a student, there was a kind of ramp at the back of the stage which Olivier rushed onto for 'Once More unto the breach, dear friends' – and we students, with black cloaks over us, carried on lamps, from either side of the stage and shone them on him too, which was a wonderfully exciting, magical effect… that was the kind of thing that he did, it was so unexpected and brilliant." You can just hear Basil's excitement – a passion for the stage that he never lost. As an Old Vic student, Basil had to go on, with virtually no rehearsal, as understudy Fool in King Lear. Who was playing Lear? Who came down the dressing-room stairs to the stage saying 'but does he know it? I'd rather he took the book on if he doesn't know it' – why? – John Gielgud, of course. Basil said he was very kind, placing a reassuring hand on his quaking back as he moved him around the stage. Later, during the war, at a moment's notice, Basil had to take over the part of Iago in OTHELLO from Bernard Miles at the New Theatre, one of the longest parts in Shakespeare. To list the great actors and actresses with whom Basil worked over the years, is to recite a Who's Who of the greatest theatrical talents this nation has ever produced. Basil earned his spurs as an actor, in the gruelling hard-work of weekly and three-weekly Rep in Amersham, Henley-on-Thames and then directed almost all the plays in rep at the Midland Theatre Company in Coventry for whom he even ended up playing Hamlet, his last appearance as an actor. During the war, he was a conscientious objector, 'I knew that I couldn't take up a gun and shoot a man, whatever his nationality' he told me, and was sent off to work in the fruit farms of Sussex – 'I learned how to prune apple trees, and I did them very well, may I say!' – but then was enlisted to join Ruth Spalding's company, the Pilgrim Players, touring morality plays, one night stands in village and school halls and churches, back-breaking get-ins and get-outs, touring the South and West of England in a truck. After the war, it was his mentor Tony Guthrie, who asked Basil to be his assistant director in 1948 on Benjamin Britten's new realization of THE BEGGAR'S OPERA. I asked Basil about that first experience of meeting Ben Britten: BC: At Erwin Stein's house in Oxford Square there was a huge grand piano in a not very big room – and the first play-through took place there with the Steins of course there, and Joan Cross, Nancy Evans, Rose Hill, Eric Crozier, Ben, Peter and Tony Guthrie and myself and I couldn't believe it, you know that suddenly I was in the same room! But again Ben's enchantment, his charm was immediate and there, do you know? And he played of course, through and Peter marked his part a bit and Nancy and Rose Hill theirs; and with the sound of all those wonderful lyrics coming from them, it was so thrilling – so thrilling – and I walked on air all the way back to Fitzroy Street to a flat I was sharing with three other friends.. And this relationship with Britten, of course, was to become one of the most important of his life, both personally and professionally, in 1949 at the Jubilee Hall in Aldeburgh, he directed the first production of Britten's children's opera, LET'S MAKE AN OPERA, then in 1951 he was entrusted with the huge challenge of staging BILLY BUDD at the Royal Opera House, then the premieres of TURN OF THE SCREW and GLORIANA would follow, major revivals of PETER GRIMES, RAPE OF LUCRETIA, ALBERT HERRING and so on. In 1954 Basil went to Toronto, Canada to run The Crest Theatre, returning briefly to take the BBC Television Director's Course at Lime Grove, and so began his extraordinary achievements in the field of television, countless brilliant productions and classic adaptations – a BAFTA winning production of BILLY BUDD, de Falla's LA VIDA BREVA, which was the first time television opera had been made in colour – and so many more too numerous to mention. In Canada his first television experience was directing a children's programme with puppets and actors called HOW DE DO DEE! – in the days when everything was broadcast live. His television plays and BBC Shakespeares were wonderful, with many famous actors, Michael Redgrave, Eileen Atkins, Eric Porter, Michael Hordern among them. Basil somehow managed to fit in many operas at Sadlers Wells, productions far afield in Turkey and the USA, a couple of plays by Francis Durbridge at the Fortune and Piccadilly Theatres in the West End – one of which ran for two years and provided a welcome regular royalty cheque. Oh yes, this modest man had the most prolific and successful of directorial careers in theatre, opera and on television. In 1965, Basil cycled down to Barnes to look at number 27 Kitson Road – he told me he was initially horrified at the thought of moving 'south of the river', but made a wonderful home there, full of beautiful art-works and books, records of his great collaborations and friendships, even the waste-paper-basket in his study was a prop-bucket from the lower-deck of HMS Indomitable from his BBC BILLY BUDD – it's a stylish and tasteful home with a warm welcome.  Basil had a lovely sense of humour, and there was much laughter in our visits, my wife Claire would take Basil's BAFTA down from the mantelpiece and wave it around as if she'd just been awarded it, much to Basil's amusement, he was charming with my young children, relishing their company, 'ah!' he'd say of our baby son Thomas, 'my youngest friend!' and even, at the age of ninety, had a go at bottle-feeding him. Basil's kindness permeated every aspect of his life. All the way through his career, Basil believed absolutely in encouraging his collaborators. He said: "There can be this insecurity in so many artists, I think understandably – if you can give them confidence you're halfway there." I asked him about his own nerves. WK: How are you about first nights – do you get very nervous? BC: Of course. WK: But do you always watch? BC: Yes, oh yes. WK: You don't run away and hide in the circle bar? BC: No, I don't, and once it starts and seems to be going alright, I then get so proud of the performers that my fears disappear. And Basil believed firmly that he had a duty to his fellow man, that it was important that through culture, and specifically through television, ordinary people could experience great art otherwise denied to them:BC: I always had this feeling that opera was so exclusive and so costly that very few people could afford to go to it except to Sadlers Wells for instance – and all these marvellous works were still locked away for a lot of people. Television was a way of bringing them to a wider audience. And it was fascinating the letters that came in after it saying 'I'd no idea where that duet came from'. However old and progressively incapacitated Basil became physically, he never lost his youthful sense of curiosity, his eternal optimism, I remember when I was working in Ireland and telephoned Basil, 'Ah, Dublin, Will, just think of it!' he said, 'it is a city I have yet to visit!' Yes Basil, we are here to celebrate all of those wonderful people you have been, in each of your Shakespearean Seven Ages. And we salute you for your fine friendship, the great encouraging life-force that you possessed, your spirit of curiosity, your incredible diligence and prodigious commitment to each of the hundreds of projects that came your way. The last time I saw Basil, a few weeks ago, was on the day I was off to the book-launch of Paul Kildea's new Britten biography… I brought Basil good wishes from John Bridcut and Philip Reed. Basil was more frail than ever, could hardly speak… & I held his hand, and he squeezed mine with great determination, I told him my news: that I had just returned from meetings in Philadelphia about my new production there & how delighted I am to be directing PAUL BUNYAN later in this Britten centenary year…. His hard-working carer, Delia, had told me that Basil seemed to be agitated: worried about things at BBCTV Centre getting lost – somehow he'd heard that the building was closing – but I was able to reassure him that, these days, more people than ever have been able to see his work through the internet and DVDs – BILLY BUDD looks splendid on disc! – and on Youtube you can watch the whole of Basil's 1977 ANNA KARENINA starring Nicola Pagett and his BBC Shakespeare AS YOU LIKE IT starring Helen Mirren… Basil seemed to accept my assurance that all was well, that much of his amazing body of work would survive his passing, and his tired eyes lit up, he looked at me and whispered the four last words I heard him speak: 'you give me life'. No Basil, it is you who have given a richer life to all of us who have had the great fortune to know you, and as long as each of us have breath to extol your exemplary life, and your brilliant achievements, we will do so. Thank you for everything, dear Basil Coleman, you lovely, lovely man.